4K HDMI Extender 60m by single Cat5e/6 Cable with IR,EDID
Features:
Each set includes one Sender and one Receiver.

Use single

UTP LAN cable

(Cat 6)to substitute HDMI cable to achieve long transmission distance, the UTP Cable follows the standard of IEEE-568B.

Transmission distance extends up to 60 meters under 4K2K@30Hz.

Supports lossless compressed digital audio: Dolby True-HD, DTS-HD Master Audio.

Transmit Digital Audio and Video over the CAT6 cable with zero signal loss.

Data transfer speed 10.2 Gbps.

DC 5V power supply.
Specifications:
Operating Temperature Range

-5 to +35ºC(+23 to +95ºF)

Operating Humidity Range

5 to 90%RH (No Condensation)

Input Video Signal

0.5-1.0 Volts P-P

Input DDC Signal

5 volts p-p(TTL)

Support Video Format

DTV/HDTV:480P/576I/720P/1080i/1080P/4K2K@30Hz/3D video/Bi-directional IR

Video Output

HDMI ,HDCP

Support Audio Format

DTS-HD Master Audio

,Dolby true-HD etc.

Transmission Distance

4K2K@30Hz 8-bit 60m(Maximum) over single CAT5E/6 /24AWG/Solid

Power consumption

4watts(Maximum)

Dimension (L×W×H)

81.5x43.5x23mm

Net Weight

250g

(Pair)
Package Contents:
1)
Main Unit: Sender & Receiver
2)
DC 5V 1A x2PCS
3)
Operating Instructions
NOTICE
Our company reserves the right to make changes in the hardware, packaging and any accompanying documentation without prior written notice.
Panel Descriptions:
Sender Panel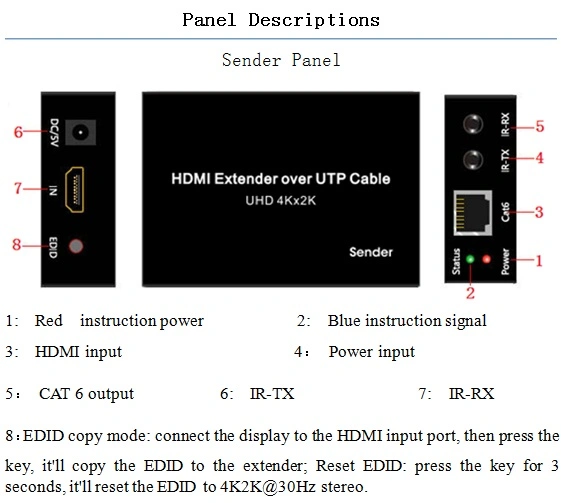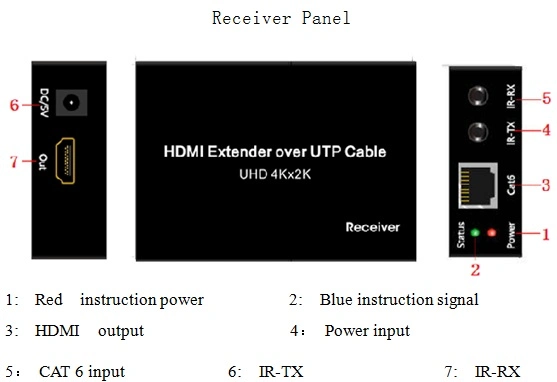 Connecting and Operating: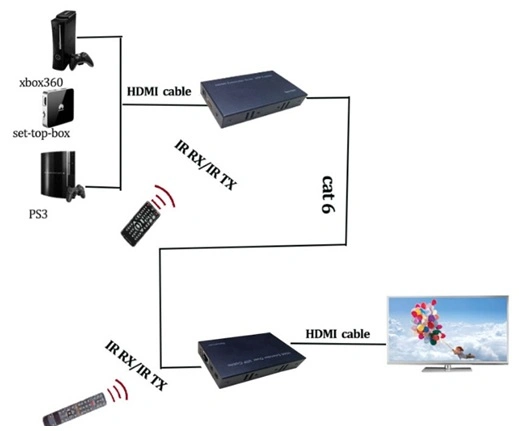 1)
Connect the HDMI signal sources (Such as PS3, STB etc) to HDMI Sender.
2)
Connect CAT 6 cables to both the outputs of the Sender and inputs of the Receiver. (The cables must follow the standard of EIA-TIA 568B).
3)
Connect the HDMI output (Such as HD-LCD, HD-DLP) into the Receiver.
Attention:
Insert/Extract cables carefully.